Seto Takuma


Seidou High School
Second Baseman
Bats: Left
Throws: Right
Kanji
瀬戸 拓馬
Nickname
Taku (by Okumura Koushuu)
Characteristics
Gender
Male
Age
15 (debut)
Date of birth
17 March
Status
Education
3rd Year Junior High (debut)

1st Year High School

Class
1-C
Skills
High baseball IQ

Fast running

First Appearance
Manga
Act I - Chapter 244
Anime
S2 - Episode 05
Cast
Voice Actor
Daiki Yamashita
"
I have some quick legs[1]
"

— Seto Takuma
Seto Takuma is a first year student of Seidou High. He is the roommate of Kanemaru Shinji and Nakata Ataru.
Appearance
[
]
Seto has medium length brown hair with red highlights that reaches down to his chin. He is first seen wearing red glasses, a yellow button-up shirt, a white long-sleeved undershirt, blue cargo pants and a white hat.
Character
[
]
An optimist with an ever-present smile, Seto is confident about his speed. He cares for his childhood friend, Okumura Koushuu and always cheers for him. When Okumura decided to enroll in Seidou, he decided to follow him there.
History
[
]
​​​​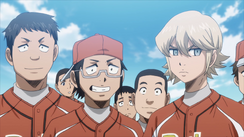 He was a third-year junior high student from Daikyou Senior in Kanagawa.[2][3] Seto and Okumura's coach treated them nicely in the beginning, but the coach actually believed the team had no potential and suddenly left them to coach a long time rival of their school instead. Feeling betrayed, Okumura rallied Seto and their teammates to defeat their former coach in a game to return him the favour.
Act I
[
]
Fall Tournament
[
]
Seto watches Seidou's first-round match against Teito High together with his close peer Okumura Koushuu.
Finals
[
]
Seto and Okumura come to watch Seidou's finals match against Yakushi High. They are shown in the bathroom with Seto talking about Raichi and his skills as both a batter and a pitcher. They later run into fellow middle school students Yuuki Masashi and Akamatsu Shinji and they have a brief conversation about what high school they'll be enrolling in. While Seto doesn't recognize Akamatsu, Okumura does recognize the pitcher.
After the match, he is seen talking to Okumura and Akamatsu.
Relationships
[
]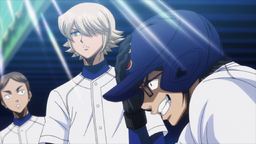 Seto and Okumura both attended Daikyou Senior and came to watch Seidou take on Teito in the Fall Tournament when deciding which high school to enroll to. After enrolling at Seidou it's obvious that he sincerely cares about Okumura and often looks out for him, telling him that he doesn't have to push himself so hard.[4]
Abilities
[
]
Seto is a player with good legs and is adept at stealing and putting pressure while on bases. His records and effectiveness are not yet available but Kuramochi once noted that Seto's base-stealing techniques demonstrated he must have had an extensive amount of training to be able to employ.
Ochiai also noted that his speed ranks A+.
Player Statistics: Second Baseman
TBA
Trivia
[
]
Until the start of Act II, he was always seen wearing a beanie.
During the introduction of the first years, he is seen without his beanie for the first time.
He is very confident in his legs.
He calls Yuuki Masashi and Yui Kaoru "iron stomach monsters".
Okumura states he's a genius gamer.[5]
Seto's hitting march is Rocky Theme by Bill Conti.
Name Etymology
[
]
Seto (瀬戸) - Port to the Rapids
Takuma (拓馬) - Supporting Horse
Quotes
[
]
"Koushuu, whose pitch do you want to catch?" - to Okumura[6]
"Everyone here is such a sore loser."
"He can change the mood of the whole stadium, in a different way than Furuya-san." - about Sawamura[7]
"You see, the thing about Koushuu is that he's always dead serious, no matter who he's up against. That's the reason why I just can't leave him and his dangerous tendencies alone" - about Okumura[8]
"Nothing! I was just telling him [Asada] how it's never boring with you around!" - to Okumura[9]
"If you need a shoulder to cry on, just come to me." - to Okumura[10]
Gallery
[
]
References
[
]
[

]