Hongō Masamune


Komadai Fujimaki - No. 1
Pitcher
Bats: Right
Throws: Right
Kanji
本郷 正宗
Nickname
Baseball Godsend (by Nitta Kouzou)[1]
Young Beast[2]
Demon God[3]
Incumbent King[4]
The Emperor[5]
Characteristics
Gender
Male
Age
17[6]
Date of birth
16 August
Place of birth
Hokkaido
Status
Education
2nd Year High School
Style
Power Pitcher
Skills
150+ km/h Fastball
Slider
Split-finger Fastball
First Appearance
Manga
Act II - Chapter 1
Anime
Act II - Episode 1
Cast
Voice Actor
Daisuke Ono
"
We came all the way from Hokkaido not to have fun playing baseball. We're here, at Koushien, to claim the Championship pennant. Like hell you Big City Wimps can ever stop us!
"

—

Hongou

in

Spring Snow [7]
Hongou Masamune is a second year student of Komadai Fujimaki. He is the ace of Komadai Fujimaki's baseball team and is touted as the young phenom pitcher of the Hokkaido Prefecture that is the best of his generation.
Appearance
[
]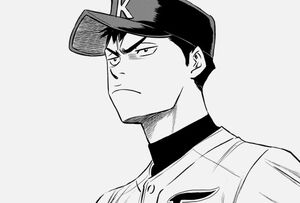 Hongou is a tall young man with a somewhat muscular build and is dubbed the big and strong youth of the North (北の怪童) by the media.[8]. He has short dark hair, dark blue eyes, and always has a gruff or uninterested look on his face.
Character
[
]
Hongou has a serious, yet intense personality. He is confident, hates losing to anyone and is often dismissive or outright rude towards others. He shows resentment towards his coach Nitta and seems to dislike the media, feeling annoyed by them.
History
[
]
When he was in Junior High, Hongou was already an impressive pitcher but on one day, he heard about Furuya Satoru, who pitches faster than he does. He and close friend Renji, wanted to play against Furuya in middle school but unfortunately, it didn't happen.[7] In his rookie year, he made his Koshien debut with his team and he was part of a pitcher relay that faced and beaten Narumiya Mei and Inajitsu in the Koshien Final, winning his first Koshien Championship in his rookie year.
By Fall, Hongou has became the Ace of Komadai and along with his team qualified for the Meiji Jingu, supposedly winning the Hokkaido Prefecture's Fall Tournament. Hongou and Renji got to see Furuya in action during the Meiji Jingu and also expected to play against him in the Final but again missed the chance after Seidou lost in the Semifinal to the eventual runner-up Houmei High.[9] Hongou and Komadai ends up beating Houmei High in the Final to win the Meiji Jingu Championship for a back to back Major Tournament win.
Plot
[
]
Act II

[

]
(84th)Spring Koshien
[
]
Hongou is first seen reading a book in the hotel while his teammates watch the telecast of Seidou's first round match. A teammate asks him if he finds the book more interesting than the match. Before he can answer, their coach, Nitta Kouzou enters to give instructions and tells Hongou that he'll be the relief pitcher in their upcoming match which really ticks him off, to be a reliever despite being the Ace of the team.
In Komadai's first round match, in the bottom of the fifth, Komadai leads with two runs and Hongou is sent to the mound. While Hongou is getting ready to pitch, he remembers the countless of questions of the media, his coach berating him for not being more approachable and generally people who kept on telling him what to do, as well as asking him personal questions. Hongou vents out his anger by quickly dispatching 3 batters to end the inning, despite this, Coach Nitta scolds him at the dugout for getting too worked up against the bottom of the lineup to which Hongou gets angry at but is held back by catcher, Renji.
Quarterfinals
[
]
In the match against Seidou High, Hongou starts for the first time in the tournament. He throws a 150km/h fastball right off the bat at Kuramochi and strike-out Seidou's lead-off with his Splitter. He then proceeds to strike-out both Toujou and Haruichi with just three pitches each, [10] thereby recording an immaculate inning.[11] Hongou then continues to shut Seidou down, after his team scored two early runs off Furuya.
At the top of the fifth, Seidou High is yet to make a hit. At-bat is Furuya and Hongou vents out his frustrations, striking Seidou's ace out.[7] At the top of the seventh, Miyuki gets the first hit off Hongou. Furuya bats next sending the ball between first and second. Miyuki advances to second but Furuya is out at first thanks to Komadai's captain's fine play. The captain, Nishi Hideo, apologizes to Hongou for failing to get the double play, Hongou points a thumb to himself then turns away. [12] And at the top of the ninth, Hongou cleanly closes out the game handing the win to his team, delivering Seidou a complete game Shut-out.
At the line-up, Furuya offers to shake hands with Hongou and despite being reminded by Renji, Hongou walked away, disregarding the gesture.
Semifinals
[
]
In the semi's versus Hakuryuu, Hongou did not pitch but Hakuryuu's lineup is shut down to five hits.
Finals
[
]
In the finals, Komadai faces Seiseisha. From a newspaper article, Hongou displays masterful pitching, raking up 12 strikeouts while holding Seiseisha to only 3 hits and delivered yet another Shut-out victory. He also impresses with his batting and Komadai wins their third major tournament.[13][14]
Skills
[
]
"
To take all of those feelings and express them through his pitching. An ability in a league on its own. Truly. He is a baseball godsend.
"
Hongou is a power pitcher, being able to throw fastballs reaching 150 km/h and topping out at 151km/h. Hongou's arsenal includes the Slider and his well-known winning pitch, the Splitter which is nigh unhittable due to how much it looks like a fastball and the amount of sinking action it has near the plate.[6] Hongou was said to possess exceptionally good control for a power pitcher, capable of locating his pitch to inside and outside corners easily right from the starting inning.[10] Unlike Furuya who relies primarily on fastball, Hongou mixes up between the Fastball and the Splitter frequently and to devastating effect and he doesn't shy away from revealing the breaking pitches early to the lead-of runner. Perhaps Hongou's greatest strength is his high intensity which allows him to stay focus right from the start and his ability to channel his frustration to enhance his pitching. It is said that the more stress he builds up the better he performs.[7] Different from other pitchers who may have moments of weakness throughout the course of a game, Hongou is able to maintain his high intensity throughout a full game, constantly staying focused while not overconfident which allows him to raise his already high level repeatedly as the game continues.
Trivia
[
]
Hongou is said to have pitched toe to toe against Mei in the Koshien Final in his first year. [15]
His pitch speed was in the high 140s in his first year. He topped out at 151 km/h in Senbatsu and has been consistently hitting 150 km/h and over in his second year. [15]
Hongou is the first pitcher in the series to be shown recording an immaculate inning[11], an exceedingly rare feat in baseball, by striking out all 3 batters from Seidou within 9 pitches in the 1st inning of the Senbatsu Quarterfinal.[10]
Hongou did not lose a single run en route to winning the Spring Koshien title.
Gallery
[
]
Quotes
[
]
References
[
]