First base, or 1B, is the first of four stations on a baseball diamond which must be touched in succession by a baserunner in order to score a run for that player's team. A first baseman is the player on the team playing defense who fields the area nearest first base, and is responsible for the majority of plays made at that base.
In the numbering system used to record defensive plays, the first baseman is assigned the number 3.
Also called first sacker or cornerman, the first baseman is ideally a tall player with good flexibility and quick reflexes. Flexibility is needed because the first baseman receives throws from the other infielders, the catcher and the pitcher after they have fielded ground balls. In order for the runner to be called out, the first baseman must be able to stretch towards the throw and catch it before the runner reaches first base. First base is often referred to as "the other hot corner"—the "hot corner" being third base—and therefore, like the third baseman, he must have quick reflexes to field the hardest hit balls down the foul line, mainly by left-handed pull hitters and good right-handed hitters that possess the ability to hit to the opposite field.[1]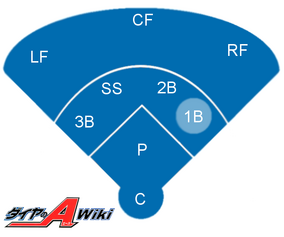 References
[
]