Can't Lose! (Makerannee!, (負けらんねぇ!) is episode 69 of the Diamond no Ace Anime series. The episode follows the storyline from chapters 213 to 216 of the manga.
Furuya is sent to the left field and Sawamura replaces him on the mound. Sawamura intends to make Kataoka acknowledge him, but ends up pitching meatballs and giving up runs.
Seidou closes the sixth inning with a 4-6-3 double play[1]. The gallery is impressed with Furuya and so is Raichi. Kataoka tells Kanemaru that he'll send Sawamura to pitch the next inning. Kanemaru goes to tell Sawamura while Furuya's aura burns. Kataoka tells Furuya that he's got high expectations from him in the Fall Tournament then sends him to the left field. Top of the seventh, Tojou's at-bat with Sanada on the mound. Sanada throws and outs him. Kuramochi's next and Sanada throws a cutter followed by an inside pitch. Kuramochi hits the following pitch but is out. At the bullpen, Miyuki and Sawamura observe Sanada's pitching and Miyuki comments on the energy Sanada brings to Yakushi. Sawamura thinks of making Kataoka acknowledge him.
Bottom of the seventh, Sawamura practice his pitching on the mound. Haruicchi wonders if Sawamura will do his usual practice of yelling on the mound before pitching, after he notices something different with Sawamura's behavior. Nori too, wonders if Sawamura'll be alright since Sawamura was pitching a lot at the bullpen.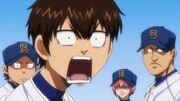 Miyuki calls for an inside pitch for the first batter. He think that Sawamura should stick to his own style if he wants to become the ace. Sawamura throws way too low, Miyuki signals him that his shoulder is way too stiff. Sawamura pitches another ball, followed by a pitch to the middle which the batter hits. Raichi's at bat and hits a home run. Miyuki calls for a time out.

Sawamura gives up more hits and walks another batter. The bases are loaded with no outs for Yakushi, to everyone's surprise. Miyuki goes to Sawamura reminding him that 'they' are there for him. His teammates on the field says the same. Sawamura throws thinking that he hasn't done anything yet, but the pitch is too high for Miyuki to catch, and goes straight to the fence. Sawamura is petrified.
References
Edit
↑ 4-6-3 Double play means the ball was hit to the 2nd baseman (No. 4), then he threw to short stop(No.6) to get the play at 2nd, and the short stop threw to 1st(No.3) to out the runner.